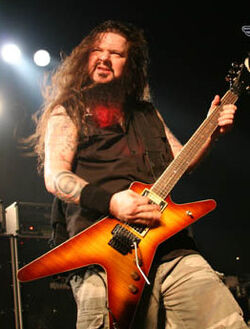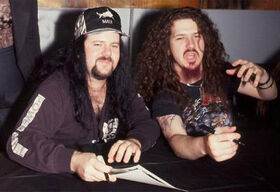 Darrell Lance Abbott, also known as "Diamond Darrell", "Dimebag Darrell", "Dimebag", or simply "Dime", (August 20, 1966 – December 8, 2004) was an American guitarist, best known as a founding member (along with his brother Vinnie Paul) of the heavy metal bands Pantera and Damageplan. He was also a member of the country/blues/southern rock/heavy metal band Rebel Meets Rebel.
Abbott frequently appeared in guitar magazines and in readers' polls, and wrote a long-running Guitar World magazine column, which was compiled into the book, Riffer Madness. He was praised for his tone and was included in "The 50 Greatest Tones of All Time" by Guitar Player magazine. Remembered for his amiable nature and rapport with fans, Abbott was described by Allmusic as "one of the most influential stylists in modern metal." On December 8, 2004, Abbott was murdered on stage during a Damageplan performance at the Alrosa Villa in Columbus, Ohio.
Discography
PANTERA

DAMAGEPLAN

REBEL MEETS REBEL
Guest Appearances
Edit
ANTHRAX
1995 - Stomp 442 (lead guitar on "Riding Shotgun" and "King Size")
1998 - Volume 8: The Threat is Real (lead guitar on "Inside Out" and "Born Again Idiot")
2003 - We've Come For You All (lead guitar on "Strap it On" and "Cadillac Rock Box"