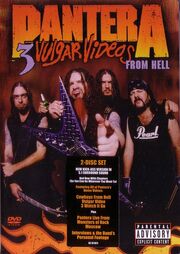 3 Vulgar Videos From Hell is a DVD released in 1999, and re-released in 2006 by the heavy metal band Pantera. This DVD combines all three of the band's previous major label home videos (Cowboys From Hell: The Videos, Vulgar Video and 3 Watch It Go) and features music videos, live performances, appearances, interviews and footage of the band on tour and in the studio from 1990 to around late 1996 and early 1997.
Track listing (Original contains only 1 disc)
Edit
Covers the Cowboys From Hell and Vulgar Display of Power eras (roughly 1990-1993).
Cowboys from Hell: The VideosEdit
1. Live at the 1990 "Foundations Forum" Convention in Los Angeles.
Vulgar VideoEdit
Live at the 1991 "Monsters in Moscow" festival.
KISS cover performed live with Skid Row.
3: Watch it GoEdit
Covers primarily the Far Beyond Driven era (roughly 1994-1996).
Monsters in MoscowEdit
Part of the band's set at the 1991 "Monsters in Moscow" festival.
"Cowboys From Hell"
"Primal Concrete Sledge"
"Psycho Holiday"